Metta City Retreat with sr Viranani (online)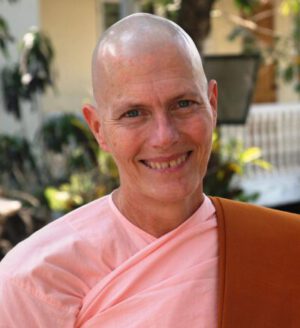 A city retreat is a beautiful way to practice meditation in an intense way while we bring our practice into our daily life. Metta (loving kindness) meditation opens our hearts and helps us to develop a stable and serene mind. This supports the development of insight. During the city retreat, organized by Amsterdam Inzichtmeditatie, Sister Virañani will be present online in the morning, she will introduce the meditations, offer a talk to support the practice and there will be moments of Q&R with sr Viranani during the week. Depending on the covid situation, there will be an optional live Sunday evening session with Riët Aarsse in the Zencentre in Amsterdam. Sister Viranani currently resides in her monastery in Myanmar. More about sr Viranani can be found here. 
Start: Sunday 6 June – End: Saturday 12 June .
Schedule (slight adaptations possible):
Sunday 6 June:
9.00-12.00 hrs and 14.30-16.00 hrs with Sr Viranani.
20.00-21.30 hrs (city centre) with Riët Aarsse
Monday 7 June till Friday 11 June:
9.00-10.30 hrs with Sr Viranani
20.00-21.30 hrs with Riët Aarsse
Saturday 12 June:
9.00-12.00 hrs with Sr Viranani
For this City Retreat we request you to attend all online sessions with Sr Viranani and as much as possible online or live sessions in the evening with Riët Aarsse. This will support your meditation and the cultivation of metta.
Fixed costs for the retreat are 15 euro. Additional will be the gifts from the heart to support sr Viranani and Riët in their livelihoods, also known as the practice of generosity.
In case the internet connection makes it impossible for Sr Viranani to attend real time, we will make use of Dhammatalks and guided meditations from earlier retreats with Sr Viranani.
Registration and payment: